Sweet Kaitlyn Mae,
It's a new year now, 2006. You are now two years old and there is still no New Orleans to speak of. They did hold some sort of New Year's party in that city but it was mostly for PR purposes and kind of lame.
By now, however, many of the myths that sprung up about Hurricane Katrina and conditions in New Orleans have been debunked.
Below we'll go into more detail on those myths below. The important thing here Kaitlyn, is that they were MYTHS and don't let your history books speak that they are truth. Already I've seen hither and yon media pundit spouting about how well the media covered Hurricane Katrina. When, in fact Kaitlyn, they got everything WRONG! Grandmother has provided each myth and documentation that the myth was wrong.
Myth 1-Development on the Coast is a Good Thing
The state of Mississippi, Kaitlyn, and I haven't said that enough in my Katrina missives, also suffered devastation from Hurricane Katrina. That state had a bunch of casinos right along its southern coast and they were all virtually destroyed.
Have they learned a lesson? It would seem not.

From Instapundit:

Biloxi ought to be Exhibit A in any discussion of whether current coastal development regulations make sense. The beachfront properties were devastated, but only a few hundred yards inland, damage was moderate. Maybe there's a lesson there for developers? Apparently not. Compared to New Orleans, where whole neighborhoods remain deserted, Biloxi is crawling with construction teams. Most of them are busy rebuilding hotels right at the water's edge.

~~~~~~~~~~
Myth 2: America Cracks Down on Illegal Immigrants
In this day, Kaitlyn, there's much furor over illegal immigration. And goodness knows it is a problem. Grandmother hopes that one day you are forced to learn Spanish as your primary problem, Kaitlyn.
Yet there is in this year of our Lord 2006, much opportunity to earn money in Louisiana because that which is destroyed must be rebuilt. Americans aren't doing it, Kaitlyn. The illegal immigrants have moved into New Orleans and no one's complaining about illegal immigration in that area.

From Yahoo.com:

Much of New Orleans lies abandoned and destroyed after Hurricane Katrina struck nearly four months ago, but for Latin American immigrants the storm-ravaged city has become a land of opportunity.

While New Orleans residents are slow to return, the immigrants, most of them illegally in the United States, have swarmed in to do the hard work of cleaning up and rebuilding that others so far have shunned...

...And so far, the authorities have not been too difficult. Local police do not hassle them and immigration agents come around only occasionally, more a nuisance than a danger...

...Mexican Adolf Ramirez, 53, who came to New Orleans from Dallas two months ago, figured the workers were being left alone because the desperate needs in New Orleans had trumped anti-immigrant sentiments now prevalent in the United States...

...The immigrant workers do not feel too threatened by competition from the local Americans. They point to the back of the parking lot where the only "gringos" in sight are sleeping on sheets of cardboard or sitting on wooden boxes, surrounded by empty beer cans and booze bottles.

~~~~~~~~~~
Myth 3-More Black People than White People Were Killed During Hurricane Katrina
Listen up, sweet Kaitlyn, because this is a big one. For the furor of the day was that black people suffered more loss, died more frequently and were ignored by President George W. Bush as the storm raged.
Yes, Kaitlyn, the Mainstream media of this day carried on like idiots that black people were hurt more by Katrina than white people.
All wrong, Kaitlyn. All wrong.

Statistics Suggest Race Not a Factor in Katrina Deaths By Nathan Burchfiel
CNSNews.com Correspondent December 14, 2005

(CNSNews.com) - Statistics released by the Louisiana Department of Health and Hospitals suggest that fewer than half of the victims of Hurricane Katrina were black, and that whites died at the highest rate of all races in New Orleans.

Liberals in the aftermath of the storm were quick to allege that the Bush administration delayed its response to the catastrophe because most of the victims were black.





Damu Smith, founder of the National Black Environmental Justice Network, in September said that the federal government "ignored us, they forgot about us ... because we look like we look."

Nation of Islam leader Louis Farrakhan in October said that the Federal Emergency Management Agency wasn't fit to help the storm's victims because "there are not enough blacks high up in FEMA" and added that, "certainly the Red Cross is the same."

Rapper Kanye West used his time on NBC's telethon for the hurricane victims to charge that, "George Bush doesn't care about black people."

But the state's demographic information suggests that whites in New Orleans died at a higher rate than minorities. According to the 2000 census, whites make up 28 percent of the city's population, but the Louisiana Department of Health and Hospitals indicates that whites constitute 36.6 percent of the storm's fatalities in the city. ------Snip--------

~~~~~~~~~~
Myth 4-Hurrican Katrina was a Category 4
Heh. For several days after Katrina struck, Kaitlyn, the Mainstream media proclaimed Katrina to be a Hurricane category 5. Eventually the elites in the media out and about and suddenly weather experts were corrected. Or maybe they "corrected" themselves, Kaitlyn because why listen to the National Hurricane Center about such things? The Mainstream media also reported that New Orleans' levees could withstand a Hurricane category 4 and frankly I don't know where they got that bit of reportage either.
Obviously they were wrong as the levees broke under the onslaught of a category 3 hurricane.
Some other myths included the Mainstream media's reporting that babies were being raped in the Superdome, that snipers were shooting at rescue personnel, hey, Kaitlyn, hand to God the handsome anchor men were reporting that over ten thousand likely died because of Katrina.
ALL OF IT WRONG, KAITLYN MAE!
Yet don't I see pompous news anchors asking why President Bush wasn't watching their own handsome selves as the hurricane roared.
Why on earth, Kaitlyn? The get a microphone in their hand and go out saying just anything they want! And they want the President to make big decisions based on what THEY say?
Give me a break.


From the Washinton Times:

Most recently, we have word from the National Hurricane Center that Katrina was not a category 4 storm at all, but rather, a category 3 when it slammed into the Gulf Coast Aug. 29. So much for the notion the levees were built to withstand anything less than a category 4.

This is only the latest in a string of stories correcting, amending and often reversing what we were told at the time. The string is so long the fabric of Katrina reporting has unraveled utterly. It's enough to encourage caution, if not outright cynicism, about all reporting, particularly during emergencies.

In the hours and days after the hurricane struck, the press reported conditions inside the Superdome and Convention Center had descended to Boschian (Hieronymous) depravity. We were told "little babies" were being raped, and that stabbings and murders were widespread. The mayor and police chief of New Orleans repeated these rumors on television, thus transforming them from scuttlebutt to "news."

FEMA, believing the stories broadcast worldwide, showed up at the Convention Center with a refrigerated 18-wheeler and three doctors to process bodies. They were expecting, reported the Seattle Times, at least 200. How many actually died in the two locations? Six. One died of a drug overdose, another committed suicide and four more died of natural causes.

~~~~~~~~~~
First Katrina/Kaitlyn post-the Beginning-9/6/05
9/7/05-H urricane Folklore/Wisdom and Nastiness
9/12/05-Hillary's "Katrina Kommission" and the Debacle of the Debit cards
9/14/05-FEMA Email; Dumb, blond Louisiana Senators
9/15/05-Ophelia and Grandmother
9/16/05-Katrina and the Helpless Pets
Stop Blaming FEMA-a pictorial explanation
What Will Become of New Orleans?
Katrina Gossip
Katrina Folklore
Nagin,the refinery bill,Character
Cops and Cadillacs
Those NO Prisoners
Documenting the Thieves
Blanco and the Dead
Samaritan Helps Evacuees-Murdered!
Those Wacky Louisiana Emails
The Myth of the Bridge Sniper

Drunks Leave the Bar
Two guys left the bar after a long night of drinking. There was a thick and heavy snow storm and a foot of snow on top of the icy hard pack that had covered the parking lot when they had arrived earlier.
They jumped into the icy car and started it up. Suddenly they were in a hurry to get home and the driver floored the accelerator.
After a couple of minutes in the thick snow storm, just as the car heater started to blow warm air, an old man appeared in the passenger window and tapped lightly.
The passenger screamed, "Look at the window. There's an old ghost's face there!"
The driver stomped down the accelerator even harder, but the old man's face stayed in the window.
The passenger rolled his window down part way and, scared out of his wits, yelled, "What do you want?"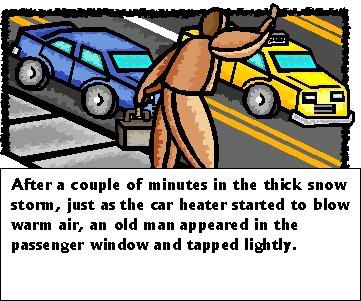 The old man softly replied, "You got any tobacco?"
The passenger handed the old man a cigarette and yelled, "Step on it," to the driver, rolling up the window in terror.
A few minutes later they calmed down and started laughing again.
The driver said, "I don't know what happened, but don't worry; the speedometer says we're doing 80 now."
All of a sudden there was a light tapping on the window and the old man's face reappeared in the heavy blizzard.
"There he is again," the passenger yelled.
He rolled down the window and shakily said, "Yes?"
"Do you have a light?" the old man quietly asked.
The passenger threw a lighter out the window, screaming at the driver: "Step on it!"
The speedometer showed about 100 miles an hour now. They were trying to forget what they had just seen and heard, when all of a sudden there came some more tapping.
"Oh my God! He's back!" The passenger rolled down the window and screamed in stark terror, "WHAT NOW?"
The old man gently replied, "Do you guys want some help getting off that icy patch?"
~~~~~~~~~~
More Fish Giggles HERE
=======================