Katrina and Rita Evacuees Murder Good Samaritan
Just remember this, Kaitlyn, it DID happen.
A kind lady helped three hurricane evacuees and got bound, gagged and murdered for her effort.
Don't let them tell you it didn't. May this be the only such incident. Perhaps it will be. But the evacuees weren't angels and they weren't victims either.
From CNN.com:

CNN) -- A Texas woman was allegedly robbed and killed by three hurricane evacuees she befriended after meeting them at her church, according to Pasadena, Texas, police.

Betty Blair, 77, was strangled to death inside her Pasadena home Friday and her bound body was discovered by her daughter Friday evening, said Pasadena Police spokesman Vance Mitchell.

Three suspects -- all described as hurricane evacuees -- were arrested Friday evening after police located the dead woman's missing car through its OnStar electronic tracking system, Mitchell said.

~~~~~~~~~~
Many Katrina Pets Rescued and Given New Homes
Yes, Americans cared about the innocent animals, Kaitlyn.


Rescued pets find new homes
By Andrea Griffith
Source: Greensboro News & Record

A 1,000-mile trip from Alexandria, Lousiana to Stoney Creek marked the start of a happy ending for about 28 pets who were either rescued or surrendered as result of Hurricane Katrina.

Teresa Craig of Gibsonville was one of several North Carolina women who traveled to central Lousiana and filled three horse trailers with 10 cats and 70 dogs. Some of those animals were dropped off at facilities in South Carolina and Maryland. About 28 of them were brought to Stoney Creek Vet.

When Craig arrived, she saw that the animals were being kept in close quarters at an overcrowded private shelter two hours north of New Orleans.

Craig said that half of the animals were rescued from the hurricane, and half of them were surrendered because of it.

Craig was invited to join the team that traveled to Lousiana because she is a veterinary technician who does relief work.





At first, Craig had mixed feelings about the groups mission, since the addition of the animals to the community would likely mean that other animals in local shelters would not get adopted. But Craigs mind was quickly changed.

They were in desperate need, she said. Theres no doubt about that.

The animals that traveled back with the team were incredibly social, according to Craig.

They were very happy to be with somebody, she said. They were a very congenial group.

Craig adopted a Siamese cat, Ivy, that she brought back. Ivy rode in the front of the truck with Craig because she was pregnant. She had five tabby kittens on Oct. 5.

Her kittens are up for adoption, but shell stay with us, she said.

Craig wasnt the only person who unexpectedly adopted one of the pets that were brought to Stoney Creek. Ashley Lineberry, a McLeansville resident, works as a receptionist at Stoney Creek Veterinary Hospital and adopted a Chihuahua she named Doc after veterinarian Dr. Glenn Huth.

Something just happened when I saw that dog, she said.

Lineberrys 9-year-old daughter Hayley is thrilled about the familys new addition. They already had three dogs and one cat.

We have a zoo at my house, she said. She added that all the animals are now getting along well, although Doc initially growled at their rottweiler.

Tina Higgs, Stoney Creek Veterinary Hospitals office manager, said that all but four of the rescued pets were adopted on the night they arrived, Sept. 12.

Everybody got a home, she said. We were overwhelmed because there were so many people.

The hospital kept the pets that night so that they could be checked for heart worm and intestinal parasites. They were also introduced to their new diet during their overnight stay.

Laura Parsons, of Greensboro, adopted a small cattle dog named Stormy from Stoney Creek and a pointer terrier mix named Ingram from a friend. Ingram was also from Hurricane Katrina; Parsons friend was providing him a temporary home.

I was not going to foster because I knew we would get too attached, she said. They become part of your family.

Parsons last dog was killed when it was hit by a car. Her 4-year- old daughter Madison welcomed two new pets.

We havent really had any problems, she said. Ultimately, I think the owners (in Lousiana) werent in a place where they could take care of them.

Craig said that Elaine French, who lives in Greensboro and traveled to pick up the animals from Louisiana, adopted a poodle that was blind in both eyes. But that was before his recent cataract surgery, which proved successful.

Now the dog can see, so thats a happy ending, she said.

~~~~~~~~~~
Slowly, the REAL Story of the Levees Comes Out
Kaitlyn,
At this time, November in 2005 this year of our Lord, there's been time for some investigation, some speculation, some inspection. For Hurricane Katrina came is a strong Cat 3 storm, not a Cat 4 as originally reported. The levees of New Orleans were alleged to be able to contain a Cat 3.
The sad fact is, whatever the outcome, those levees have never been tested anywhere near the level that they were tested during Hurricane Katrina. Who knows that had Katrina been a Cat 1 the things would also have collapsed?
In due course, Kaitlyn, after many studies by many people, after many attempts at cover-up should corruption in the levee building be discovered, the truth will come out. Below, it begins.
From the NY Times:

These levees should have been expected to perform adequately at these levels if they had been designed and constructed properly," said the expert, Raymond Seed, a professor of civil engineering at the University of California, Berkeley.
"Not just human error was involved," Professor Seed said. "There may have been malfeasance."

Professor Seed, whose team was financed by the National Science Foundation, did not offer hard evidence to back up his accusation. But he said after the hearing that the team had been contacted by levee workers, contractors and, in some cases, widows of contractors who told stories of protective sheet pile being driven less deeply than plans called for and corners cut in choosing soils for construction, among other problems.
~~~~~~~~~~
Katrina Political Cartoon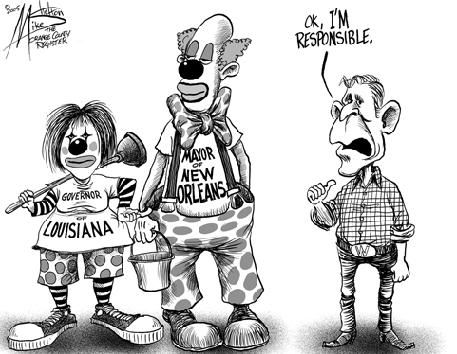 ~~~~~~~~~~
First Katrina/Kaitlyn post-the Beginning-9/6/05
9/7/05-H urricane Folklore/Wisdom and Nastiness
9/12/05-Hillary's "Katrina Kommission" and the Debacle of the Debit cards
9/14/05-FEMA Email; Dumb, blond Louisiana Senators
9/15/05-Ophelia and Grandmother
9/16/05-Katrina and the Helpless Pets
Stop Blaming FEMA-a pictorial explanation
What Will Become of New Orleans?
Katrina Gossip
Katrina Folklore
Nagin,the refinery bill,Character
Cops and Cadillacs
Documenting the Thieves
================